Hello all, Kara here with your Tidbit Tuesday. Halloween is just a little over a week away, can you believe that? Yeah, I can't either. I have been browsing sites to find some cute crafts I can do with my son, who will be 6. I can across
http://www.kaboose.com/
It's a great site with lot's of fun crafts. We have yet to do this craft, but we will soon. I thought I would share it with y'all. It's called Vampire Lollipops. These vampire's are not scary, they are actually cute!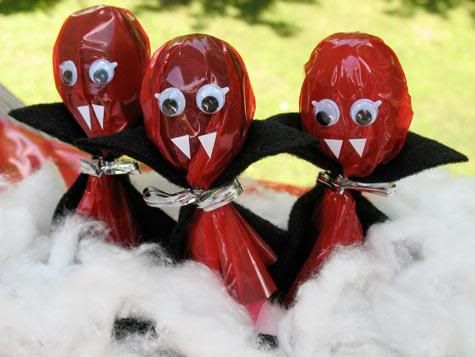 What You'll Need:
Red cellophane
Lollipops (as mas as you'd like)
Black felt
Twist ties
White address labels
Scissors
Peel and stick wiggly eyes
How To Make It:
1.Using the pattern, cut shapes (1 for each lollipop) from black felt
2
.Cut a piece of cellophane into a square, large enough to wrap around the head of the lollipop (
see photo
)
3
.Loosely wrap the cellophane around the lollipop and place the wrapped lollipop onto the felt cape (
see photo
)
4.
Wrap twist tie around both at the neck of the lollipop (
see photo
)
5.Cut fangs from white address labels and stick to the front of the lollipop.
Attach peel and stick wiggly eyes to the front of the lollipop (
see photo
)
Tips:
1. To add some variety, try using different color cellophane such as red, green, or purple.
2.Bend the end of the twist times to look like bow ties.
3. Try creepy eye Halloween stickers, other than wiggly eyes.
And there you have it. My son is excited to do this craft later this week. Please, if you do this craft with your kiddos, be sure to stop by and show us your photos. Have a great day!