Have you heard about it???? It is the newest rave online and I have to admit that I am totally hooked! Hello, Tara here hoping to bring some inspiration to you through a new website. I don't know about you but I get in a creative rut sometimes. I need to find something that really jumps out at me to motivate my mojo back into gear. This is where Pinterst comes in.

It is a social community where you can "pin" items you like while surfing online. You can pin ANYTHING. I have pinned color inspiration, home decorating ideas, fun kid crafts, fashion wants, word art....you name it. Then on your page at Pinterst, it looks kind of like a bulletin board that is organized by whatever titles make sense to you. Not only do you get to see all your wants and like in one spot, you also get to see what your friends like! It is a great way to see so many things. Have I got you hooked yet?

Go head.......head over to Pinterest. I promise you won't be disappointed. They even have a blog to follow.

Here is a screen shot of some of the goodies that are on there.....




Here is my board on Pinterest....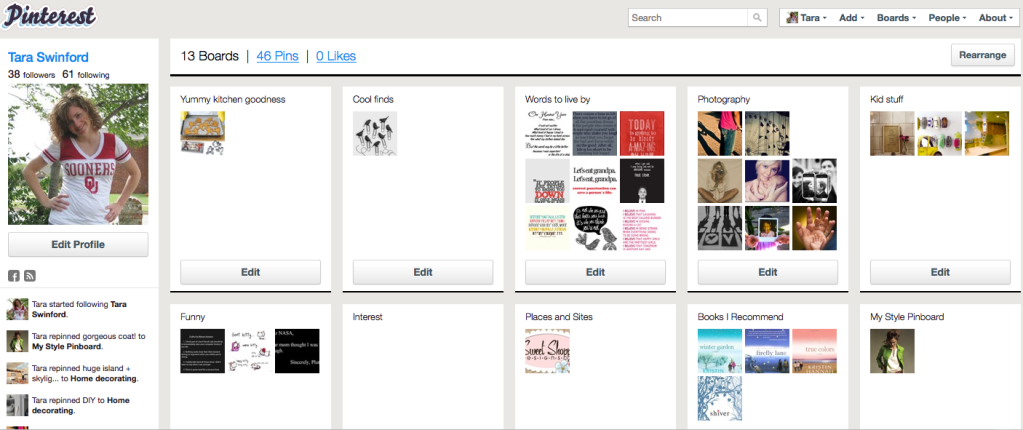 The best part is seeing what designers are inspired by! Some of my favorite boards to follow are by the creative minds that make the awesome kits we love!

Don't let me keep you any longer......go ahead......Pinterst is waiting for you!