Hi everyone! Terra here with my first Saturday School post.
I have a good camera, but I often find that I take more pictures with my iPhone. I'm even considering doing Project 365 solely with iPhone photos next year. There are some amazing camera apps available and I thought it would be fun to highlight some here. But just to be fair, I'm including some apps available for the Android and Blackberry as well.
iPhone Apps
CameraBag
CameraBag was one of the first camera apps that I got for my iPhone 3G a couple years ago and it is still my favorite app. It isn't free, but at $1.99 it is still affordable, and in my opinion well worth the price. It is very easy to use and includes 11 different filters. I've even saved photos to my iPhone just so I could use the filters. It's a really fun and versatile app.
Pocketbooth
Getting your picture taken in a photo booth is always a lot of fun and the Pocketbooth app lets you create similar images with your iPhone. It makes strips of 3 or 4 images with either a black or white border on matte or glossy paper. There are also other settings for different picture styles and can be lots of fun for everyone.
Hipstamatic
When thinking of fun camera apps on the iPhone, Hipstamatic usually comes to mind as it has quite a following online. It offers lots of different customization options from different lenses, to flash, to film. This app has built-in Facebook and Flickr sharing and you can email photos directly from the app. I really like the artistic feel to the images but it isn't the most inexpensive app. The app costs $1.99 and additional Hipstapaks (lens, flash and film combos) are available for 99 cents each.
Retro Camera (Available on iPhone and Android)
Similar to Hipstamatic, Retro Camera is a really cute app that turns your phone into a fun, toy camera. It instantly turns your phone into one of 5 different cameras and best of all it is free. I love everything about the interface and it is so much fun to play with. All of the cameras take pictures with a unique vintage feel based on various "toy" cameras, from the Lomo to Polaroid.
Android
FxCamera
FxCamera lets you apply a fun effects such as ToyCam, Polandroid and Warhol to photos and is very similar to CameraBag for iPhone. It is one of the best apps on the market and even though it is a bit more basic than other Android camera apps, it is free.
Vignette
Vingette has more features and is more versatile than FxCamera. It is a good replacement for the default camera app since it supports high resolutions and add several different effects and frames. You can either take a regular photo and edit it afterwards or take a photo with a pre-selected effect. As it has 62 built-in effects it can alter photos in many different ways. You can also save favorite effects for quick access. At under $4 it seems like a great deal.
Camera 360
Camera 360 is also packed with many different settings and effects. It has 3 different lomo options for photos with vintage feel. It also supports HDR and axis shift photos. This app is also free so it is worth a try if you own an Android.
Blackberry
I have to admit that it wasn't easy to find fun camera apps for the Blackberry. It doesn't seem to be an area in which the Blackberry excels. If I am wrong about this, please let me know!
Popular Photo Tools
Popular Photo Tools allows you to do basic photo editing such as editing the contrast, converting to black and white and adjusting brightness levels. It is a handy app to make simple adjustments to photos and it looks like additional features are in the works.
iTookThisOnMyPhone
This free app allows you to easily share your mobile photos on many different sites, including Facebook and Twitter. It can also optionally add GPS location information to your photos. It also offers you a place to store your photos online for free in public or private albums.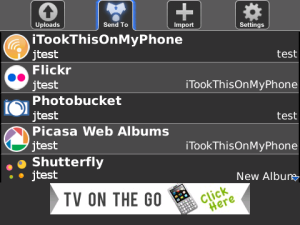 These are just a few of the apps available for the various smartphone devices. Do you have a favorite app that I didn't mention? Leave a comment and let us know about it.