Hello everyone, Kara here with a yummy recipe I hope your family will enjoy as much as my family does.
It's called Mac&Cheese Lasagna. At first I wasn't too sure about this one, because Mac&Cheese in my lasagna, just did not sound good. But if you have a son like mine, all he eats is mac&cheese and chicken. (which he thinks everything is chicken) So I came across this recipe from www.kraftfoods.com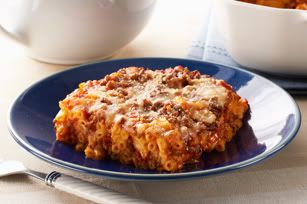 Here is what you'll need:
1 Pkg (7-1/4 oz) Kraft Mac & Cheese Dinner
1/2 lb lean ground beef
1 1/2 cups Spaghetti sauce
1 cups Kraft shredded Low-Moisture Part-skim Mozzarella
cheese.
2 Tbsp. Kraft grated Parmesan cheese
Make it:
Bake oven to 350 F
Prepare Dinner as directed on package, using the light prep directions. Meanwhile brown meat in skillet, drain.
Spoon half the Dinner into lightly greased 8-inch square baking dish;
top with layers of half each sauce,meat and shredded cheese. Repeat layers, the sprinkle with
Parmesan cheese.
Bake 20 mins, or until heated throughly. ( I bake a little longer brown the cheese on top a little more)
Hope you enjoy today's Meals in Minutes. As always, have a great day!!
Kara