Good morning my fellow bloggers, Kara here again with a recipe I think you will love. I have had this craving lately for some potato soup, I have never made any but we went to Applebee's the other day and they had this yummy loaded baked potato soup. I have been searching all over for the recipe. Well, I found one from Kraft Foods I was surprised as to how easy this really is. So let's get started!

Prep time: 15 mins
Total time: 30 mins
Makes: 4 servings, about 1 cup each

What you need: 1lb baking potatoes (about 2) cubed.
1 can (14-1/2 oz) fat free reduced sodium chicken broth
1 cup milk
3 slices of bacon,cooked,crumbled,and divided
1 cup KRAFT shredded cheddar cheese, divided
1 green onion, sliced
1/4 cup sour cream

How to make it: Microwave potatoes in a large microwaveable bowl, on high for 5 minutes, stirring after 2-1/2 minutes. Stir in brother and milk. Microwave for 10 minutes, stirring after 5 minutes. Carefully crush potatoes with potato masher. Leave 2 Tbsp each bacon and cheese and 1 Tbsp onions for topping. Stir remaining bacon cheese and onions into soup. You may now serve topped with reserved bacon, cheese, onions, and sour cream. Now you should have a yummy hot delicious soup for your family! (side note, you may peel your potatoes if you'd like)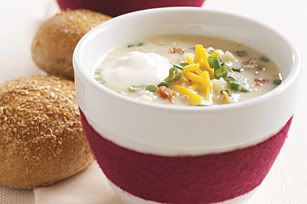 You may also serve with a side salad and biscuits. I hope you enjoy this recipe as much as I did! Please if you make this and try it, stop by our blog and let us know how it turned out! Have a great day!!
Kara